All public space and back-of-house surfaces are sanitized every 2 hours with antiviral disinfectant, including (but not limited to):
Door handles & door plates
Stair banisters
Reception desk, pens, touchpads
Light switches
Elevator buttons
Escalator hand rails
Trash receptacles
Coffee & beverage stations
Vending & ice machines
Card keys on check-out
All kitchen equipment
Towel dispensers
Cleaning equipment
Computer terminals
Hand sanitizing stations are placed at guest and team member entrances and contact areas:
Each front desk station
Each cashier station
Main entrance
Side entrances
Entrance to outlets
Elevator lobbies
Main meeting space
Each occupied meeting zone
All public and back-of-house restrooms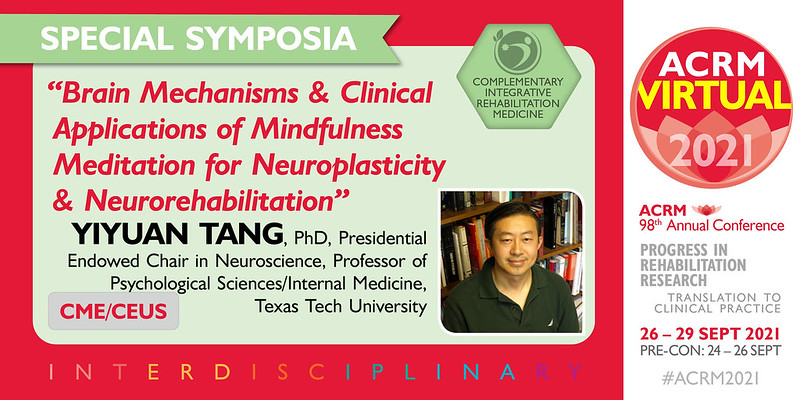 Research has shown that mindfulness meditation induces brain functional and structural changes (neuroplasticity) associated with attention, self-control, emotion regulation, and social functioning. This talk will first summarize the latest findings of mindfulness meditation in stress reduction, improved attention, self-control, and brain plasticity in cognitive, emotional, and sensory-motor areas; then the talk will explore how mindfulness meditation induces neuroplasticity and the above-mentioned functions; at last, the talk will discuss clinical applications of mindfulness meditation in neurorehabilitation.
Health Club protocols include reduced capacity, use of every other machine to support social distancing and amplified sanitization of high-contact surfaces.
All public and team member restrooms are sanitized on a schedule including:
Toilet flushing handles
Toilet paper holders
Toilet seat coverings holders
Sink faucet handles
Soap dispensers
Hand dryers
Trash receptacles
Door handles and plates
Towel dispensers
Baby changing station
Front desk set-up and processes modified to provide for social distancing and enhanced sanitizing.
Increased advocacy for utilization of Digital Key and Hilton Honors app providing contact-free check-in process
Increase use of Kipsu (text messaging system) for pre-arrival and on-site communication to limit front desk visitation
All team members and guests are required to wear a face covering
Plexiglass screens at front desk to provide protection for guests and team members
Social distancing floor decals will assist with queue management
Phone sanitizing to prevent cross-contamination between agents
Hand sanitizer will be provided at each front desk station
Elevators are limited to 4 people per elevator with directional signage
Housekeeping services will be provided on an opt-in basis.
Guest rooms will be sealed by housekeeping after each deep cleaning and disinfection. The Hilton CleanStay seal confirms no one has accessed the room since being cleaned.
Guest rooms will only be serviced after check-out or upon request
Additional linen available upon request
Upon check-out, rooms will be left vacant for 3-5 days and then deep cleaned
Industry leading cleaning and sanitizing protocols are used to clean guest rooms with particular attention paid to high-touch areas including:
Door handles & door plates
Safety latch & peep hole
Desk, table, chairs, lamp
Dresser drawer handles
Light switches & electrical outlets
Thermostats
In-room collateral
Telephone keypad
Remote control
Alarm clock
Television
Trash receptacle
Drapery pull handles
Hangers, luggage rack
Our hotel will be taking a phased approach to reopening our food and beverage outlets starting with grab-and-go first.
Counter Offer
Re-worked displays
Less bulk, less content
Revised menu
Line queue management through floor decals
Plexiglass screens at cashier station
Media Bar + Grill
Reduced seating capacity to meet current state requirements of 10 people per 300 square feet
Revised menu
Revised sanitation process:

Tables, bar tops, stools and chairs sanitized after each use
Single-serve condiments
Check presenters, pens and all other reusable items to be sanitized after each use (or single use)
All straws wrapped
New protocols for cleaning/sanitizing and social distancing
will be put into place for all meetings.
Respecting physical distancing with creative and customized meeting sets and customized menus; example floor plans available upon request
All food and beverage items will be individually plated and served
Coffee and other break items to be attended and served by a server
Rolled silverware and disposable utensils will be utilized
Condiments to be single serve or served in sanitized individual containers
Enhanced cleaning and sanitizing protocols will be implemented
Use of linen less tables whenever possible. If linen is used it will be changed, including underlays, after each use
Eliminate bulk water stations; bottled water available for purchase
Removal of pen, pads and candy in meeting rooms
New technology packages to allow for smaller group meetings in multiple rooms with same presenter, and hybrid meetings with attendees onsite as well as remote
Increased hand sanitizer stations on meeting room floors
Signage in common areas encouraging social distancing
Utilize multiple entry points to ballroom to avoid crowding
 

 
 
 

 

 

 
 

ACRM PAID MEMBERSHIP

ACRM PAID membership level includes a subscription to the ARCHIVES of Physical Medicine & Rehabilitation — the oldest and largest rehabilitation journal in the world and allows full participation in ACRM Community Groups.

 Consumer/Patient/
Caregiver
 Student/Resident/
Fellow
 Early Career
 Professional

Access the same research as soon as it becomes available — whether you are a patient in a hospital, in outpatient rehab, or are a person with a disability.

Those enrolled in a school of medicine or graduate, or undergraduate program or fellowship. Includes ARCHIVES of PM&R subscription. 

 Professionals during the first five years after completion
of post-graduate studies. Find your mentors and long-lasting relationships here.

Full membership includes subscription to the ARCHIVES of PM&R. Help advance the rehabilitation field as well as your own livelihood.

 

5

99

/month OR

 

49

99

/year

 

5

99

/month OR

 

49

99

/year

 

11

99

/month OR

 

124

99

/year

 

28

99

/month OR

 

299

99

/year

 

ACRM FREE MEMBERSHIP

Try ACRM on for size with one of these options. FREE membership does not include a subscription to the ARCHIVES of PM&R, and does not enjoy lower pricing on ACRM event registration.
ACRM eMember
Six-Month Trial
Stay in-touch with ACRM & the rehab industry by receiving the industry newsletter, ACRM eNews, in your in-box each Thursday. If you wish to attend ACRM meetings, please join the ACRM Pro-level or Six-Month Trial.
This membership includes everything included in the ACRM PRO-LEVELS above minus the print edition of the ARCHIVES of PM&R. Participate in community group meetings including Task Forces for up to six months.
FREE
FREE
 
 
 
 
 
 
 
 
 
 
 
 

BENFITS AT-A-GLANCE

FREE

PAID

 

eMember

Six-Month Trial

 
SUBSCRIPTION to ACRM eNews
✔
✔
✔
SUBSCRIPTION to ARCHIVES of PM&R — ELECTRONIC
 
✔
✔
SUBSCRIPTION to ARCHIVES of PM&R — PRINT
 
 
✔
 
Participation in ACRM Community Group Meetings
 
✔
✔
Participation in ACRM Task Force Meetings
 
✔
✔
Participation in ACRM Committees
 
✔
✔
Participation in ACRM leadership positions
 
✔
 
 
Eligible for Membership pricing (events and products)
 
 
✔
Access to Member-only area
 
 
✔
Access to Members-only materials
 
 
✔